Resident Evil Remake PC Game Mei 2011
Resident Evil Remake v.2.0.0.0 (2011/ENG)
Tahun: 2011
Bahasa Inggris
PC
Developer: CAPCOM
Publisher: N & T
2.89 GB
Genre: Aksi / Petualangan / 3D
Resident Evil - Remake (remake dari bagian pertama) untuk PC.
Konsep dasar dan cerita, tentu saja, dipertahankan.
Tapi ternyata sekarang terlihat makin cantik.
Mansion telah mengalami
restrukturisasi lengkap - baik visual dan arsitektur.
Tetap dengan beberapa teka-teki, tapi tempat yang paling bermasalah dibuang atau disederhanakan.
Lokasi rumah sendiri dengan pemakaman di halaman belakang, jalan melalui hutan kuburan lainnya yang mengarah ke sebuah gubuk aneh tempat kecil dengan
laboratorium bawah tanah Karakter utama seperti sebelumnya, pasukan khusus Tim Alpha-Jill Valentine dan Chris Redfield Bersama dengan teman-temannya, mereka terbang dengan helikopter untuk mencari skuad yang hilang
Bravo Tim, yang, pada gilirannya, adalah menyelidiki pembunuhan misterius di Kota hutan pinggiran kota Raccoon. Setelah mendarat di tepi, mereka menemukan sebuah helikopter rusak, tapi itu robek tubuh pilot. Kemudian serangan Cerberus (anjing zombie),
dan kualitas suara yang tersisa secara ajaib berhasil bertahan hidup dengan bersembunyi di rumah Sir Spencer. Pada akhirnya kami mendapat remake besar permainan yang baik.
Persyaratan sistem :
- Sistem operasi: Microsoft ® Windows ® XP SP2 / Vista / 7;
- Processor: Intel P4 1000 MHz atau AMD Athlon XP 2500 +
- Memori: 256 MB - 1 GB
- Video: Geforce 6600 Kelas
- Ruang pada hard disk: 4,43 GB

Perubahan dalam versi 2.0.0.0:
- Peningkatan grafis pengaturan
- Ditambahkan Shader 3.0
- Fixed suara (kualitas suara ditingkatkan, distorsi dikoreksi / mengi)
- Fixed (FIX) beralih permainan drive kedua. (Tombol "Insert" Toggle)
- Full optimasi
- Ditambahkan Motion Blur
- Ditambahkan efek HDR
- Ditambahkan menyimpan permainan Cepat "Shift + F1: Save game | F1: Upload"

Instalasi:
1. Mount image
2. Menginstal permainan
3. Bermain
Pengaturan permainan - seperti dalam game PC penuh.
Screenshot :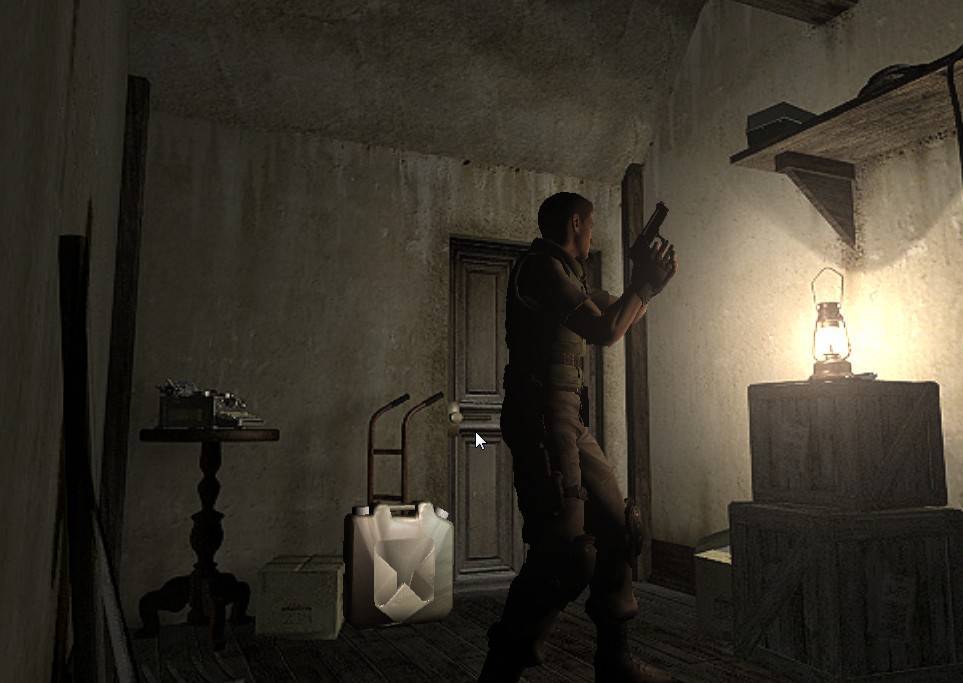 Link download yg masih bisa : Download Pc Games Resident evil Remake Full Version ||

Mediafire

||:
Download via uTorrent :
Resident Evil Remake v.2.0.0.0.iso
Semua link sudah ditest dan semua link work
by kaskus
Oya RE Remake ini emulator gamecube sama dgn RE 1 director cut, cmn ada bbrp yg beda di gameplay nya, yg pasti gambarnya lebih bagus.
Game ini keluar 2 versi, versi pertama besarnya file 1.97 GB, jgn download yg itu krn pas di tengah2x game nya nnti mau minta ganti disc 2 ga bisa jalan, alias stuck.
Jika terdapat masalah tolong baca ini :
Jika ada tulisan di windows seperti ini
"unable to load DLL c:\Resident Evil - Remake\Re.exe->VCOMP100.dll
the specifed module could not be found."
coba download ini
http://adf.ly/40EDQ
and extract di folder installationnya RE remakenya brader...
klo msh error jg,coba buat folder "c:\Resident Evil - Remake",lalu copas file yg ane upload td kesana...